Today, we should stop for a second and think about safety. 100 years ago was the great Triangle Fire. A fire that started a movement toward work place safety and saved many lives.
The list of atrocities included:
The Triangle workers had never participated in a fire drill.
The Asch building in which the Triangle facility was located, had no sprinkler system.
Fabric was strewn throughout the factory.
An open bucket of oil was on the floor for lubricating sewing machines.
Oily wooden floors spread the fire quickly.
Boxes blocked the exits.
There was no third staircase as required by New York City's building code.
Stairwell doors opened inward rather than outward.
Sewing machines were placed so closely together that there was little room to move among them.
146 young teenage women died that day in a fire that the National Women's Trade Union League and other labor groups rallied around and won rights for workers that keep many of us safe today.
As we discuss what Unions have done and why they are needed, spend some time asking where would we be without these changes.
http://www.youtube.com/watch?v=rf9GVbzf7Q4
62 people jumped to their deaths 100 years ago. Young, unskilled, immigrants who were packed into the factory 6 days a week. It wasn't that long ago.
CNN is scheduled to air the HBO documentary "Triangle: Remembering the Fire" on Saturday night, March 26 at 11 p.m., eastern time; 8 p.m. pacific time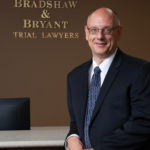 A founding partner with Bradshaw & Bryant, Mike Bryant has always fought to find justice for his clients—knowing that legal troubles, both personal injury and criminal, can be devastating for a family. Voted a Top 40 Personal Injury "Super Lawyer"  multiple years, Mr. Bryant has also been voted one of the Top 100 Minnesota  "Super Lawyers" four times.