Roughly 2 percent of all traffic fatalities are bicyclists. Riders are incredibly vulnerable in collisions with motor vehicles because they have little protection from the force of impact. Even those who wear adequate safety gear are likely to sustain catastrophic injuries if a car strikes them at a moderate speed.
If you were seriously hurt in a bicycle accident through no fault of your own, you may be wondering how you'll ever recover financially. After all, you're probably anticipating significant medical bills, which you'll have to contend with long after your physical injuries have healed.
Thankfully, you may have legal recourse. If you can determine who was to blame for the crash, you may file a third-party claim with their insurance carrier.
Read on for the answers to some of the most frequently asked questioned about building such a claim:
1. What Kinds of Damages Can I Seek After Getting Hurt in a Bicycle Accident?
If you file your bicycle accident claim in Minnesota, you may seek compensation for the following damages:
• Health care expenses;
• Home care;
• Replacement services;
• Domestic help;
• Alternative transportation;
• Home and vehicle modifications needed to accommodate any permanent disabilities;
• Lost earnings;
• Loss of future income and benefits;
• Pain and suffering;
• Mental anguish; and
• Loss of enjoyment in life.
Additionally, your spouse may be entitled to funds for loss of companionship or consortium. This encompasses the loss of love, society, solace, and affection that individuals suffer when their husband or wife gets seriously injured.
2. How Can I Prove the Motorist Who Struck Me Was at Fault for the Accident?
When it comes to motor-vehicle collisions, proving fault almost always poses a challenge. With help from a resourceful legal team, though, you should be able to gather the evidence needed to demonstrate how the accident occurred and the role that each party played in it. Such evidence might include:
• The official police report;
• Photographs of the wreckage;
• Statements from accident reconstruction experts;
• Eyewitness testimony;
• Dash cam recordings from vehicles in the vicinity;
• Surveillance footage from cameras overlooking the scene;
• Cell phone records; and
• Toxicology reports.
3. How Long Do I Have to File a Personal Injury Lawsuit If the Liable Party Will Not Settle?
Most valid personal injury actions are settled because both parties want to avoid court and all the hassle that comes with it. If for some reason you can't reach an agreement with the insurance carrier, though, filing a lawsuit may be the only way to secure the funds that are rightfully yours.
In Minnesota, the typical statute of limitations for personal injury suits—including those involving bicycle accidents—is six years; however, since there are a number of exceptions that can shorten this deadline considerably, it's advisable to consult a lawyer as soon as possible.
Call 320-259-5414 to Discuss Your Case with a St. Cloud Bicycle Accident Attorney
If you were struck by a reckless driver while riding your bike in traffic, contact Bradshaw & Bryant. Our law office combines the personal touch of a small, local firm with the resources and experience of a powerhouse practice. Fill out the Contact Form on our website or call 320-259-5414 to set up a free case review with a bicycle accident lawyer in St. Cloud.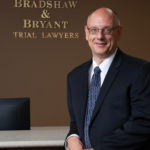 A founding partner with Bradshaw & Bryant, Mike Bryant has always fought to find justice for his clients—knowing that legal troubles, both personal injury and criminal, can be devastating for a family. Voted a Top 40 Personal Injury "Super Lawyer"  multiple years, Mr. Bryant has also been voted one of the Top 100 Minnesota  "Super Lawyers" four times.