Drowsy drivers are responsible for up to 6,000 fatal collisions every year. While anyone can doze off behind the wheel, truckers are especially likely to drive drowsy because of their job's long hours and demanding deadlines.
If you were struck by a big rig after the driver fell asleep in traffic, you may be entitled to compensation for the resulting damages. Read on to learn the answers to three FAQs about these claims:
1. How Do You Prove a Trucker Was Driving While Drowsy?
While the strongest evidence will ultimately depend on the circumstances, you may be able to prove drowsy driving using:
• Dash Cam Footage: Dash cams on vehicles in the vicinity may have captured the trucker dozing off behind the wheel.
• Eyewitness Deposition: Nearby motorists, passengers, and/or pedestrians may have seen the trucker swerving, nodding off, or demonstrating other signs of drowsy driving.
• Black Box Data: If black box data indicates the trucker failed to take any steps to prevent the crash—such as engaging the brakes—it could support the claim that he or she was asleep just before the accident.
• The Official Police Report: If the trucker admitted to driving while drowsy, it should be noted in the police report. If the trucker did not accept blame at the scene, the report may still be helpful because officers might have recorded their suspicions that he or she fell asleep behind the wheel.
• Relevant Logs and Receipts: The trucker's driving logs, weigh station records, toll booth receipts, and GPS data could indicate an hours of service violation. If the trucker had been on the road for longer than allowed by law, that fact alone would constitute negligence.
2. How Long Do I Have to Take Legal Action Following a Drowsy Driving Truck Accident?
If the insurance adjuster refuses to offer a fair settlement, you have a limited amount of time to file a lawsuit. In Minnesota, the standard statute of limitations for personal injury suits founded on negligence is six years.
Because there are a number of exceptions to this statute, though, it's wise to consult an attorney as soon as possible. In addition to keeping you from missing critical deadlines, this will give your legal team the chance to gather potentially time-sensitive evidence while it's still available.
3. What Kinds of Damages Can I Pursue by Filing a Personal Injury Claim?
In Minnesota, personal injury claimants may seek compensation for:
• Medical expenses;
• Home care;
• Property repairs;
• Alternative transportation;
• Cost of reasonably necessary replacement services;
• Lost wages;
• Loss of earning capacity;
• Pain and suffering;
• Mental anguish; and
• Loss of enjoyment in life.
Call 320-259-5414 to Speak with a Truck Accident Attorney in St. Cloud
If you were hurt in a drowsy driving truck accident, contact Bradshaw & Bryant to determine the most strategic way to proceed. We are committed to helping clients fight for the compensation they need to put their lives back together. Call 320-259-5414 or fill out our Contact Form to schedule a free consultation with a truck accident lawyer in St. Cloud.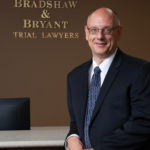 A founding partner with Bradshaw & Bryant, Mike Bryant has always fought to find justice for his clients—knowing that legal troubles, both personal injury and criminal, can be devastating for a family. Voted a Top 40 Personal Injury "Super Lawyer"  multiple years, Mr. Bryant has also been voted one of the Top 100 Minnesota  "Super Lawyers" four times.