If you're involved in a car accident, your statements and actions at the scene can have a major impact on the outcome of your subsequent claim. It's important that you maintain your composure, gather evidence, and avoid mistakes that could jeopardize your ability to recover compensation for your healthcare costs, vehicle repairs, and other damages.
Read on to learn some of the more common errors made by car accident victims while they're still at the scene: 
Apologizing to Those Involved
 You may be inclined to apologize to the other motorists or passengers who were involved, but it's best to avoid doing so. Your apology may be interpreted as an admission of fault and could therefore lead to a liability dispute. Although Minnesota follows a no-fault system in cases involving minor injuries, you may have grounds for a third-party claim if you sustained serious injuries that have resulted in at least $4,000 in medical expenses or 60 days of disability. 
Failing to Photograph the Inside of Your Vehicle 
When photographing the wreckage, don't forget to document the inside of your vehicle. Deployed airbags, bloodstains, broken glass, and other debris can help accident reconstruction experts piece together what happened. These photos may also help your attorney prove damages. 
Posting About the Accident on Social Media 
It's fairly common to turn to social media for love and support following any kind of traumatic event. Since getting into a collision is incredibly stressful, you may be inclined to post about it online. Unfortunately, there's no way to predict how your posts could impact your personal injury claim, so it's best to stay off social media while your case is pending. 
Agreeing to Handle Everything Without Police Involvement 
The other motorist may try to convince you not to call the police. He or she may even offer to write you a check on the spot so you don't have to go through the hassle of filing an insurance claim. While it may be tempting to accept such an offer, doing so is never a good idea.
Your injuries might turn out to be more severe than you think. Also, the check might bounce, and you may eventually find out that the other driver isn't insured. It's also possible that the at-fault motorist will deny liability, and you'll be in a tough position if you don't have a police report to corroborate your version of events. 
Call 320-259-5414 to Speak with a St. Cloud Car Accident Attorney 
If you or someone close to you was injured in a motor-vehicle collision with a drunk, distracted, or otherwise reckless driver, contact Bradshaw & Bryant. We understand the physical, emotional, and financial toll unanticipated injuries can have on your life, and we will do everything in our power to help you fight for the compensation you deserve. Call our office today at 320-259-5414 or fill out our Contact Form to schedule a free, confidential consultation with a St. Cloud car accident lawyer.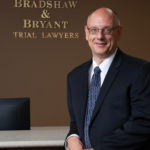 A founding partner with Bradshaw & Bryant, Mike Bryant has always fought to find justice for his clients—knowing that legal troubles, both personal injury and criminal, can be devastating for a family. Voted a Top 40 Personal Injury "Super Lawyer"  multiple years, Mr. Bryant has also been voted one of the Top 100 Minnesota  "Super Lawyers" four times.