Animal attacks are utterly devastating. A single bite from a medium-sized dog has the potential to cause serious injuries, not to mention permanent scarring and disfigurement.
While victims are often entitled to compensation—assuming they didn't provoke the animal—they must put together a strong claim in order to secure it. And since every dog bite is unique, so is every associated action.
That doesn't mean, however, that there aren't a few universal strategies virtually all injured parties can apply to strengthen their respective claims. If you're planning on filing a dog bite claim in Minnesota, read on to learn what those strategies are:
1. Visit a Doctor Right Away
Seeking care right away will prevent complications for which you might otherwise be deemed liable. It will also start a legitimate paper trail linking the attack in question to your injuries.
2. Photograph Your Wounds as They Heal
Images of your wounds will supplement your medical records and help contextualize the trauma you've experienced. At least twice a week, photograph any bruises and lacerations from various angles. Save the files on multiple secure platforms and/or hard drives to ensure redundancy. That way, if one platform or device fails, you can still access the images on another as needed.
3. Refrain from Saying Anything on Record
The insurance adjuster will probably reach out and ask for a recorded statement fairly early in the proceedings. It's generally advisable to refrain from giving one until you've consulted a personal injury attorney. Speaking on what happened during the attack or how you're coping with the injuries opens the door for disputes, especially if you inadvertently say something that ends up contradicting the facts of the case.
In that same vein, you should lay low on social media until your claim has been resolved. Posts are essentially recorded statements, and depending on their content, they could be used to challenge your credibility.
4. Seek Legal Counsel
When recovering from serious injuries, you have enough to worry about without having to navigate complex insurance proceedings. As such, it's wise to enlist legal help.
A seasoned personal injury lawyer can handle virtually every aspect of your claim, so you can focus on making a full recovery. They can even prepare your case for court, if the insurance adjuster refuses to offer a fair settlement.
Discuss Your Claim with a Dog Bite Attorney in St. Cloud
At Bradshaw & Bryant, we know just how devastating dog bite injuries can be. If you were attacked by someone else's pet, we'll help you take the steps needed to pick up the pieces in the aftermath.
Our compassionate and resourceful team is equipped to investigate animal attacks, compile evidence of liability, log damages, and negotiate for satisfactory settlements. We also have litigation experience we can fall back when insurance adjusters are especially stubborn. To schedule a free, no obligation consultation with a dog bite lawyer in St. Cloud, complete our Contact Form or call 320-259-5414.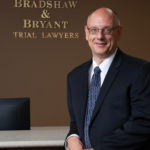 A founding partner with Bradshaw & Bryant, Mike Bryant has always fought to find justice for his clients—knowing that legal troubles, both personal injury and criminal, can be devastating for a family. Voted a Top 40 Personal Injury "Super Lawyer"  multiple years, Mr. Bryant has also been voted one of the Top 100 Minnesota  "Super Lawyers" four times.