If you were bitten by a dog, there's a good chance the owner will be on the hook for your medical bills, lost wages, and other associated damages. This is assuming, of course, that you didn't provoke the animal and you weren't trespassing on private property at the time. In order to recover a payout, though, you're going to have to put together a strong case.
To do that, you can start by taking the following steps:
1. Identify the Owner
Ask the dog's handler if they're the owner. If they are, get their name and phone number. If they're not, ask them for the contact details of the person who is. Then, confirm the animal's rabies vaccination status. If the dog is not up to date on its immunizations, you may need more than just wound care when you seek treatment.
2. Visit a Doctor
Assess the severity of your wound and determine whether you should call 911 or have someone drive you to a local urgent care center. Either way, visit a doctor as soon as possible after the incident (ideally later that same day).
This will ensure the timely treatment of your injuries, reducing the risk of complications like infection and rabies. It will also start a paper trail documenting your wounds through a legitimate means and linking them to the attack in question.
3. Notify the Authorities
Every municipality has a branch of law enforcement that deals with dog bites. Reach out to the animal control office that has jurisdiction in the county where you were bit to report the incident. Depending on the circumstances, they may need to intervene and take possession of the dog.
4. Document Your Recovery
Save all the medical records pertaining to the injuries you sustained. Examples include hospital logs, immunization documents, prescriptions, diagnostic images, and wound care instructions. You should also photograph your injuries over the course of your recovery, as well as any permanent scarring or disfigurement left in their wake once you reach maximum medical improvement.
5. Call a Lawyer
Dog bite claims tend to get contentious because few pet owners want to admit their furry friends have the capacity to hurt people. To mitigate much of the hassle that comes with taking action, enlist help from a resourceful personal injury attorney.
A seasoned lawyer can handle virtually every aspect of your claim, so you can spend your time focusing on your recovery. Your legal team will investigate the incident, compile proof of liability, log damages, and handle all correspondence with the opposing party on your behalf.
Speak with a St. Cloud Dog Bite Attorney
Recovering from wounds sustained in an animal attack is inherently stressful. Thankfully, you don't have to navigate the claims process alone.
For help with your personal injury case, turn to Bradshaw & Bryant. Our consistently impressive results demonstrate our dedication to clients in every claim we handle. To set up a free consultation with a dog bite lawyer in St. Cloud, call 320-259-5414 or fill out our Contact Form.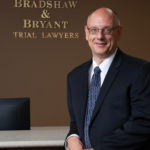 A founding partner with Bradshaw & Bryant, Mike Bryant has always fought to find justice for his clients—knowing that legal troubles, both personal injury and criminal, can be devastating for a family. Voted a Top 40 Personal Injury "Super Lawyer"  multiple years, Mr. Bryant has also been voted one of the Top 100 Minnesota  "Super Lawyers" four times.