While you assume a certain amount of risk every time your ride your bike alongside moving traffic, it's reasonable to expect the passing motorists to look out for you. Unfortunately, as nearly a thousand families learn every year, this is not always the case.
Cyclists make up roughly 2 percent of all traffic fatalities. In 2019 alone, 843 bicyclists were killed in collisions with motor vehicles, and many more were injured.
If you were hurt in a bicycle accident, filing a claim won't undo what happened. It could, however, yield the money needed to put your life back together in the aftermath. If you didn't have a helmet on at the time, though, you may be wondering whether you can even pursue a payout.
While failing to wear a helmet won't prohibit you from taking action, it might affect the total compensation to which you're entitled. Read on to learn how.
If You Suffered a Head Injury
Under Minnesota's modified comparative fault rule, a plaintiff's own contribution to the accident—or the injuries they sustained—will offset a defendant's liability. That means if you end up seeking compensation for a head injury, there's a good chance you won't be entitled to 100 percent of the damages.
If the defendant can prove that your injury wouldn't be as severe had you been wearing a helmet, they can shift some fault onto you. This, in turn, will reduce their own liability. As long as you're found less than 50 percent responsible, though, you can still recover funds for a portion of your losses.
If You Suffered Other Injuries
If you did not sustain a head injury, it's reasonable to assume wearing a helmet wouldn't have reduced the damages you ended up suffering. As such, the state's modified comparative fault rule won't come into play (assuming, of course, that you didn't contribute to the accident in some other way). Therefore, you'll be able to pursue funds for 100 percent of your recoverable losses.
What Is the Deadline for Filing a Bicycle Accident Lawsuit?
As long as there's a chance you're entitled to compensation, it's wise to commence the proceedings as soon as possible. Minnesota has strict filing deadlines for personal injury suits, including actions stemming from bicycle accidents.
The typical statute of limitations for cases founded on negligence is six years. The deadline for those founded on intentional misconduct, on the other hand, is two years. And if you'll be going up against a government agency, you have just 180 days to notify them of your injuries.
Since there are a few exceptions to these statutes, it's advisable to seek legal counsel as soon as possible. Should the liable party prove uncooperative, you'll be glad you gave yourself plenty of time to go to court.
Discuss Your Case with a Bicycle Accident Lawyer in Minneapolis
If you were struck by a reckless driver while riding your bike despite following the rules of the road, turn to Bradshaw & Bryant. We'll investigate the circumstances surrounding the crash and help you determine how best to proceed so you can pursue the maximum payout possible. To schedule a free case review with a bicycle accident attorney in Minneapolis, call 800-770-7008 or complete our Contact Form.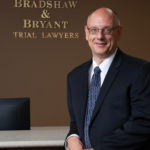 A founding partner with Bradshaw & Bryant, Mike Bryant has always fought to find justice for his clients—knowing that legal troubles, both personal injury and criminal, can be devastating for a family. Voted a Top 40 Personal Injury "Super Lawyer"  multiple years, Mr. Bryant has also been voted one of the Top 100 Minnesota  "Super Lawyers" four times.