There continues to be a lot written about the exploding gas cans and Blitz. Here at the Legal Examiner we have looked at the issue a number of times:
The US Chamber of Commerce Spins a Web of Misinformation about Blitz USA, Mark Bello | October 16, 2012 6:14 PM
Blitz Could Have Prevented Burn Injuries and Lawsuits By Making Safer Products, Claude Wyle | September 10, 2012 8:04 PM
Blitz USA: Is Your Life Worth More Than A Dollar?, Mark Bello | August 23, 2012 11:00 AM
Wall Street Journal's Gas Can Job Loss Claim is Short Sighted, Michael Monheit | August 09, 2012 3:08 PM
Do you have an exploding plastic gas can?, Wayne Parsons | August 07, 2011 5:26 PM
Mother Files Wrongful Death Action Against Manufacturer of Exploding Gasoline Container, Amy Rothschild | September 04, 2007 11:58 AM
I arose the ire of some Blitz employees the last time I looked at the issue, (check out the comments)
So How Many Burned Children Is OK?, Mike Bryant | August 20, 2012 9:47 AM
Since that time, I came across this video which adds information to the debate:
http://www.youtube.com/watch?feature=player_embedded&v=fuPsb3eh2nQ
Let America Know: has identified some undeniable facts :
Flame arresters were invented 200 years ago and are used today on water heaters, charcoal lighter fluid, and even Bacardi 151 rum. Flame arresters have also been used in metal gas cans for 100 years and have effectively prevented explosions. (Source: Portable Gasoline Container Explosions and Their Prevention, Society of Forensic Engineers and Scientists)
Plastic gas cans represent 95 percent of all gas cans sold in America, or an estimated 19 million per year. Blitz USA, the manufacturer accounting for 75 percent of all U.S. sales, does not include a flame arrester in its plastic gas cans. (Source: Consumer Product Safety Commission 2003 Memo (download) and Various Industry Sources)
Workplace standard 1926.155(l) on fire protection and prevention require that gas cans have flame arresters. Yet gas cans sold to American consumers are not required to meet the same standards. (Source: Safety and Health Regulations for Construction, Occupational Safety and Health Care Administration)
This company has been used as a symbol of what is wrong with the court system. In fact, they have convinced a writer at the New York Time to bite on the idea. They don't have the facts to support the claim. Sure it makes for a nice sound bite, but it doesn't go with protecting the consumer or protecting lives over profits.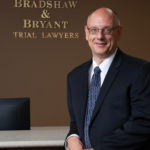 A founding partner with Bradshaw & Bryant, Mike Bryant has always fought to find justice for his clients—knowing that legal troubles, both personal injury and criminal, can be devastating for a family. Voted a Top 40 Personal Injury "Super Lawyer"  multiple years, Mr. Bryant has also been voted one of the Top 100 Minnesota  "Super Lawyers" four times.