For a couple of weeks now I've been reading about and sometimes hearing about that horrid case where the guy wants all that money for his wedding pictures. People seem all whipped up about a case that has for the most part been dismissed. (Yes, the court did dismiss a bunch of the counts recently- see the system works)
It seems that some guy is upset that not enough pictures were taken at a wedding that is already a divorce. While they did last longer than Kim and Kris, the marriage in question has been over for a couple of years now.
There are problems with the case because:
– They aren't married anymore.
– His damages seem high, especially with the request to fly in the original wedding guests to recreate the photos.
– As of yet I haven't seen anything to explain why all the pictures were taken.
– This is a contract claim so it's not really the same type of case that those using it want it to be.
Thus, we see that yes the judge did throw out a lot of the claims. (See above: the system works)
One of the defense complains is that they have spent more money on attorneys than the outrageous amounts the guy is asking for. That's odd and doesn't make sense economically. Might be worth the story to actually to see what his lawyers have been billing him for. Seems like the summery judgment motion (to make the system work) shouldn't have cost that much.
I saw in one of the stories there were depositions and that the litigation has been going on for over two years. Really, how much were the defense attorneys working on this case? Did it have some merit, or if it didn't, why didn't they make the system work? In Minnesota, the filing fee and motion fee would have been less than $500.00.
As usual, it seems like much ado about nothing. But, the tort reformers will shake their fists and demand the courthouse doors be closed. Because, a lot of this crap is pushed by them.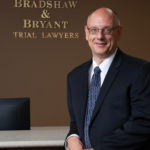 A founding partner with Bradshaw & Bryant, Mike Bryant has always fought to find justice for his clients—knowing that legal troubles, both personal injury and criminal, can be devastating for a family. Voted a Top 40 Personal Injury "Super Lawyer"  multiple years, Mr. Bryant has also been voted one of the Top 100 Minnesota  "Super Lawyers" four times.