Diocese of Saint Cloud Bankruptcy Petition 06.15.20
(Saint Paul, MN) – Today, the Diocese of St. Cloud filed for Chapter 11 bankruptcy protection in United States Bankruptcy Court, District of Minnesota. The Diocese is the 26th Catholic Diocese or Religious Order to file for bankruptcy protection in the United States.
In March, 2018 under pressure from dozens of sexual abuse lawsuits, the Diocese announced publicly that it would take this step and file bankruptcy. Since then sexual abuse survivors and the Diocese of St. Cloud worked together to reach a framework for a $22.5 million agreement to compensate survivors of child sexual abuse by clergy and employees of the Diocese, which must now be approved by the bankruptcy court. Currently there are more than 70 pending lawsuits against the Diocese.
"This is another important day for these courageous survivors," said attorney Mike Finnegan. "It's a big step on their way to recovering some of their power by sharing a painful truth."
In January 2014, the Diocese released a list of 33 priests who were assigned to work in the Diocese of St. Cloud who the Diocese identified as likely to have abused minors. As a result of lawsuits and investigations in Minnesota and across the country brought with the help of statute of limitations reform, the Diocese of St. Cloud's list of likely abusers has grown to 42.
"It's been a very long journey for so many people," said attorney Mike Bryant. "Many survivors have been waiting decades for some accountability and acknowledgement of the harm they've suffered. Now that the Diocese has filed bankruptcy, it's important that those survivors be treated fairly in this process."
Under the framework agreement, the Diocese of St. Cloud has agreed to release the files of all 42 of those clergy credibly accused of sexual abuse of minors.
Contact
Jeff Anderson: Office/651-227-9990  Mobile/612.817.8665
Mike Finnegan: Office/651-227-9990  Mobile/612.205.5531
Mike Bryant: Office/320-259-5414  Mobile/320-250-5585    
Josh Peck: Office/651-227-9990  Mobile/651-253-4972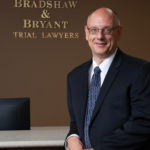 A founding partner with Bradshaw & Bryant, Mike Bryant has always fought to find justice for his clients—knowing that legal troubles, both personal injury and criminal, can be devastating for a family. Voted a Top 40 Personal Injury "Super Lawyer"  multiple years, Mr. Bryant has also been voted one of the Top 100 Minnesota  "Super Lawyers" four times.