Given the strict regulations that govern product manufacturing and distribution, you might assume that all consumer goods are safe when used as directed. This, unfortunately, is not always the case. As many people have learned the hard way, a defective product can cause serious injuries even when used responsibly. If you're recovering from an illness or injury and you think a product defect is to blame, you may be entitled to compensation.
Below are a few questions you can ask to discern whether your case has merit:
1. Were You Using the Product Correctly and for Its Intended Purpose?
Did you read all relevant warnings and abide by them when using the product? If the item in question requires periodic maintenance, did you perform it as recommended by the manufacturer? If you weren't using the product correctly and for its intended purpose when the injury happened, the defendant will likely dispute liability; however, your case may still have merit if you were using the product as a reasonable person would use it.
2. Was the Product Directly Responsible for Your Injuries?
Did you merely happen to get hurt while using the product, or did the item in question cause your injuries? If you were riding a bicycle, for example, did the bike have some kind of defect that contributed to the accident, or did you merely round a corner too fast?
3. Did You Incur Damages as a Result of Using the Product?
Just because the product had a defect doesn't mean you are entitled to compensation. You must be able to prove that the defect was a proximate cause of your injury or loss. For example, if you suffered a leg injury in a motorcycle accident and you find out later that the riding jacket you were wearing had a manufacturing defect, it is unlikely that you would have grounds for a claim against the jacket manufacturer.
4. Was the Defect "Unreasonably Dangerous?"
There are several approaches your attorney might take to prove that the product was unreasonably dangerous. Often, the best strategy is to demonstrate that a safer alternative design was feasible and therefore should have been used. Supporting evidence may include blueprints, schematics, and the deposition of a product expert.
Call 320-259-5414 to Discuss Your Case with a Product Liability Attorney in St. Cloud
If you or someone you love was severely injured due to a product defect, contact Bradshaw & Bryant to determine the most strategic way to proceed. There are many parties who might be liable for damages in these cases. Our attorneys can perform a thorough investigation to determine liability, compile evidence, and ensure your case is as strong as possible when we enter settlement negotiations.
Our clients appreciate the knowledge, resources, and dedication we bring to each and every case, as well as our commitment to keeping them fully informed every step of the way. Call us today at 320-259-5414 or fill out our Contact Form to schedule a free consultation with a product liability lawyer in St. Cloud.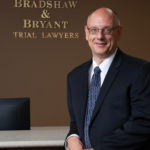 A founding partner with Bradshaw & Bryant, Mike Bryant has always fought to find justice for his clients—knowing that legal troubles, both personal injury and criminal, can be devastating for a family. Voted a Top 40 Personal Injury "Super Lawyer"  multiple years, Mr. Bryant has also been voted one of the Top 100 Minnesota  "Super Lawyers" four times.