If you were hurt on someone else's property, you may be entitled to compensation for the medical bills, lost income, and other damages you incur as a result. Winning a premises liability lawsuit usually requires the plaintiff to demonstrate that the property owner or occupier failed to maintain the premises to a reasonable standard, and that this breach of duty was the proximate cause of the damages.
Should the liable party refuse to pay a fair settlement, you will have only a limited amount of time to file suit. If you attempt to sue after the applicable deadline has passed, the judge will almost certainly dismiss the case.
Called "statutes of limitations," these deadlines are in place to protect both plaintiffs and defendants. While they motivate plaintiffs to take action when potentially time-sensitive evidence is still available, they also protect defendants from having to disprove claims that they no longer have the means to challenge.
If you intend to bring a premises liability claim, you should find out the statute of limitations that applies to your case as soon as possible. There are certain exceptions that can shorten the deadline considerably, and other exceptions that can "toll," or postpone, the statute of limitations. The easiest way to find out the applicable deadline is by scheduling a free consultation with a personal injury attorney.
Generally speaking, the following deadlines apply to most premises liability lawsuits in Minnesota:
1. 180 Days
If you slipped and fell on government property, you must notify the appropriate agency of your claim within just 180 days. Should the government entity refuse to cover the damages after reviewing your submission, the standard statute of limitations for the corresponding circumstances would apply.
2. Six Years
Excluding cases that involve medical malpractice or defective products, personal injury claimants typically have six years to bring a formal suit against those liable for their damages. In other words, you probably have six years from the date on which you were hurt on someone else's property to commence litigation. Because critical evidence may not be available indefinitely, though, it's best to start the proceedings much sooner.
3. Three Years
If a slip and fall accident causes injuries that prove to be fatal, the victim's surviving family members will likely have three years from the date of death to file a formal suit.
There's always a lot to do following the loss of a loved one, especially if the death was unanticipated. For example, it's easy to get caught up when settling the estate, and before you know it, a year has already passed. Although you may not necessarily want to navigate two complicated legal proceedings simultaneously, it may be in your family's best interests to start building your wrongful death case right away.
Speak with a St. Cloud Premises Liability Lawyer Today
If you want to file a premises liability claim in Minnesota, turn to Bradshaw & Bryant. Our resourceful team will prepare your case as if it we are going to court, even if a settlement is the expected outcome. Call 320-259-5414 or fill out our Contact Form to schedule a free consultation with a premises liability attorney in St. Cloud.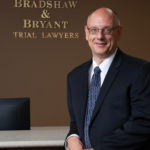 A founding partner with Bradshaw & Bryant, Mike Bryant has always fought to find justice for his clients—knowing that legal troubles, both personal injury and criminal, can be devastating for a family. Voted a Top 40 Personal Injury "Super Lawyer"  multiple years, Mr. Bryant has also been voted one of the Top 100 Minnesota  "Super Lawyers" four times.