Getting hurt in a car accident can add a number of tasks to your ever-growing to-do list. You'll certainly have to visit a doctor, for example, and you may have to find someone to cover for you at work. You'll also need to arrange for alternative transportation until your vehicle is repaired or replaced.
In other words, calling a personal injury attorney is probably the last thing on your mind. As soon as your condition stabilizes, however, it should be the first.
The sooner you call a seasoned lawyer, the sooner you can start building your claim—and the sooner you may be able to recover a payout for the associated damages. Let's take a look at some of the biggest reasons to call an attorney right away following a wreck:
1. Essential Evidence May Be Time Sensitive
Calling a lawyer immediately following the accident will give your legal team the opportunity to gather time-sensitive evidence that might otherwise be altered or destroyed. Examples include black box data and surveillance footage of the scene.
Eyewitness testimony is also considered time-sensitive because the memory becomes increasingly less reliable as time passes. As such, your attorney will want to obtain statements from those who witnessed the crash as soon as possible.
2. The Case May Prove More Complicated Than Anticipated
If you were struck by someone who was texting and driving, proving liability probably seems fairly straightforward. You can simply cross reference the distracted driver's cell phone logs with the date and time of the accident.
What if his or her carrier refuses to release said logs without a subpoena, though? Should this turn out to be the case, it could take weeks—or even months—to get them to cooperate.
Regardless of how simple your claim may seem on day one, legal proceedings are inherently unpredictable. What's more, they almost always take longer than anticipated to resolve. By calling an attorney right away, your legal strategy won't be derailed by unanticipated delays or uncooperative parties. Instead, you'll have plenty of time to pursue the payout you deserve.
3. You Have a Limited Amount of Time to Proceed File Suit
In Minnesota, the standard statute of limitations for personal injury lawsuits is six years. Since there are a number of exceptions to this rule, however, you shouldn't put off calling an attorney with the assumption that you have plenty of time. If a government entity was ultimately to blame for the wreck in which you were hurt, for example, you have just 180 days to commence the proceedings.
Call 320-259-5414 to Discuss Your Case with a St. Cloud Car Accident Lawyer
If you were struck by a reckless driver, contact Bradshaw & Bryant. We understand the devastating impact that unanticipated injuries can have on your physical, emotional, and financial wellbeing. That's why we'll use all the resources at our disposal to help you pursue the compensation you deserve. Call 320-259-5414 or use our Online Contact Form to set up a free case evaluation with a car accident attorney in St. Cloud.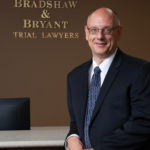 A founding partner with Bradshaw & Bryant, Mike Bryant has always fought to find justice for his clients—knowing that legal troubles, both personal injury and criminal, can be devastating for a family. Voted a Top 40 Personal Injury "Super Lawyer"  multiple years, Mr. Bryant has also been voted one of the Top 100 Minnesota  "Super Lawyers" four times.