Taking your family out to eat should be a fun and relaxing experience. Restaurants offer the opportunity to enjoy one another's company over a delicious meal without having to worry about cooking or doing the dishes—most of the time. When the staff fails to maintain the premises, however, a simple family outing can end in the hospital.
If you were seriously hurt at a dining establishment, it's natural to stress about your financial security. Unanticipated injuries can result in costly medical bills, not to mention weeks—or even months—of lost wages.
Fortunately, you may be entitled to compensation for all such damages. Before you can pursue the funds, though, you're going to have to put together a strong personal injury claim. If you're unsure how to go about getting started, the following tips will help:
1. Preserve Evidence from the Scene
If you managed to photograph the scene of the accident before leaving the restaurant, make copies of the files to ensure redundancy and then store them on a different hard drive or cloud-based platform than the originals. If the manager on duty drafted an incident report, you should store a copy of that document in a safe place, as well. The same goes for any statements you already obtained from patrons, staff, or other eyewitnesses.
2. Log Recoverable Damages
Personal injury claimants may only seek compensation for the damages they can prove they actually incurred. As such, it's imperative to save any and all documentation that corresponds to your injury-related expenses. Examples include medical bills, insurance statements, paystubs, and invoices for reasonably necessary replacement services.
As for logging non-economic damages like pain and suffering, which are also recoverable in the state of Minnesota, you can start a personal injury journal. Write daily entries about how your condition is affecting your quality of life to illustrate the extent of your non-monetary losses.
3. Avoid Giving a Statement
At some point—fairly soon after the accident, no doubt—the restaurant's insurer will probably reach out and request a recorded statement. Until you've confirmed the cause of the accident and your injuries have reached maximum medical improvement, it's advisable to refuse saying anything at all. Otherwise, you could state something that ends up contradicting the facts of the case, which will give the insurance adjuster reason to challenge your credibility.
Instead, you should simply decline to give a statement, no matter how much they try to pressure you into doing so. And once you enlist legal help, you can refer the insurance adjuster to your attorney, so you won't have to correspond with the opposing party at all.
Call 320-259-5414 for a Free Consultation with a St. Cloud Personal Injury Attorney
If you were hurt at a restaurant and you want to take action against the establishment, turn to Bradshaw & Bryant for strategic legal counsel. Our compassionate team will help you determine how to pursue the compensation you deserve and then take the steps needed to get your claim off the ground. Call 320-259-5414 or fill out our Contact Form to schedule a free case review with a personal injury lawyer in St. Cloud.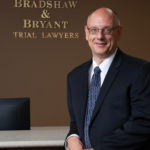 A founding partner with Bradshaw & Bryant, Mike Bryant has always fought to find justice for his clients—knowing that legal troubles, both personal injury and criminal, can be devastating for a family. Voted a Top 40 Personal Injury "Super Lawyer"  multiple years, Mr. Bryant has also been voted one of the Top 100 Minnesota  "Super Lawyers" four times.