Although most parking lot accidents occur at fairly low speeds, they can still cause considerable damage. Neck and back injuries, for example, are common in low-speed collisions, and their symptoms can be debilitating.
Fortunately, people who are hurt in parking lot crashes may be entitled to compensation for medical bills, lost wages, mental anguish, and other damages. To obtain a financial recovery, however, you will have to prove fault, or "liability."
Hopefully, you were able to gather evidence while still at the scene. If you were not able to do so, it may still be possible for your attorney to compile time-sensitive evidence, but it is important that the investigation begins right away. You should schedule the initial consultation as soon as possible.
Below are a few examples of evidence your lawyer might use to prove fault:
1. Security Footage
Many parking lots are monitored by surveillance cameras. If your accident occurred in a relatively developed area, there's a good chance it was captured on film; however, since these recordings may be overwritten within a matter of days, you'll have to act fast.
If the parking lot where you were hurt was not monitored by cameras, that doesn't necessarily mean there is no footage of the accident. As long as there were other vehicles in the vicinity when the collision occurred, it's possible that a dash cam captured the incident. Like security footage, though, dash cam recordings will not be available indefinitely, so it's important that your attorney is able to reach out to the owners of the other vehicles as soon as possible.
2. Eyewitness Deposition
Deposition from people who witnessed the accident may corroborate your version of what happened. This is why it's always a good idea to write down the contact information of eyewitnesses before leaving the scene of an auto accident. Even if they did not have the time to provide a statement, your attorney can reach out to them to find out what they saw and whether their deposition might strengthen your case.
3. Photographs of the Wreckage
An accident reconstruction expert may be able to determine what happened just prior to the crash by analyzing photos of the scene. Their subsequent deposition might help your attorney prove negligence and liability.
Call 320-259-5414 Today to Speak with a Car Accident Attorney in St. Cloud
If you or someone you love was hurt in a parking lot accident in Minnesota, contact Bradshaw & Bryant. Our strategic team of attorneys will provide the legal guidance you need and the personalized attention that you and your family deserve.
We don't charge anything for the consultation, and we accept car accident cases on a contingency fee basis. That means if we don't win your case through a settlement or trial verdict, you won't owe any attorney's fees. Call us today at 320-259-5414 or fill out our Contact Form to schedule a free consultation with a car accident lawyer in St. Cloud.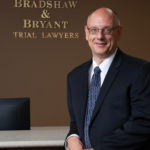 A founding partner with Bradshaw & Bryant, Mike Bryant has always fought to find justice for his clients—knowing that legal troubles, both personal injury and criminal, can be devastating for a family. Voted a Top 40 Personal Injury "Super Lawyer"  multiple years, Mr. Bryant has also been voted one of the Top 100 Minnesota  "Super Lawyers" four times.