If you or someone you love was injured by a defective product, you may have grounds for a personal injury claim against the product designer, manufacturer, or another party that played a role in its development or distribution. You'll need strong evidence and a tactful strategy to prevail in such a claim. You'll also have to avoid critical mistakes that would lead to disputes, delays, and complications.
Read on to learn some of the most common mistakes injured parties make after getting hurt by defective products:
1. Disposing of the Product
In most product liability claims, the defective item in question serves as the most valuable evidence of liability. Therefore, you should preserve it until your case has been resolved. You should also save the original packaging, instruction manual, and receipt or proof of purchase.
2. Postponing Medical Care
Even if your injuries don't appear to be life threatening, it's wise to seek medical care as soon as possible following an accident involving a defective product. Visiting a doctor right away will ensure you receive adequate treatment for all injuries including those that might have latent symptoms. It will also help your attorney tie your injuries to the accident and demonstrate that you've taken reasonable steps to mitigate your damages.
3. Failing to Document Damages
In the state of Minnesota, personal injury claimants have the right to seek compensation for:
• Property damage;
• Medical expenses;
• Lost income and benefits;
• Loss of future earning capacity;
• Other economic damages like home care, child care, alternative transportation, and domestic help;
• Pain and suffering;
• Mental anguish; and
• Loss of enjoyment in life.
To win a settlement or verdict, you'll need strong evidence to prove the kinds of damages you've incurred and their value. Such evidence may include:
• Medical bills;
• Quotes for repairing or replacing any damaged property;
• Pay stubs and tax documents to prove lost income;
• Invoices for necessary services like meal preparation and housekeeping;
• Photographs of any visible injuries;
• Expert witness testimony;
• Testimony from loved ones regarding changes in your mood and demeanor; and
• Personal injury journal entries detailing the recovery process and the daily struggles you now face.
4. Accepting Fault
The insurance adjuster might ask you leading questions that are designed to coerce a response that can be used to dispute liability. If you say anything that implies you weren't using the product as a reasonable person would use it, the insurer might blame you for the incident. The best way to avoid this scenario is to let a skilled product liability lawyer handle all correspondence with the insurer.
Set up a Free Consultation with a in St. Cloud Product Liability Attorney
At Bradshaw & Bryant, we have the resources, experience, and legal strategies to take on even the largest corporations and their insurance companies. Our award-winning attorneys are aggressive negotiators and tough litigators who passionately represent each and every client—no matter the potential value of their claim. Call us today at 320-259-5414 or fill out our Contact Form to schedule a free case evaluation with a product liability lawyer in St. Cloud.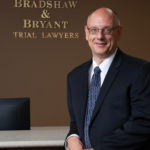 A founding partner with Bradshaw & Bryant, Mike Bryant has always fought to find justice for his clients—knowing that legal troubles, both personal injury and criminal, can be devastating for a family. Voted a Top 40 Personal Injury "Super Lawyer"  multiple years, Mr. Bryant has also been voted one of the Top 100 Minnesota  "Super Lawyers" four times.