From medical bills to lost wages, the costs associated with getting in a wreck can add up fast. And since such damages are both tangible and quantifiable, it's difficult to overlook them.
What many people don't realize, however—at least not until they get seriously hurt—is that the intangible losses resulting from collisions can be just as devastating. Thankfully, tort law in Minnesota recognizes as much and allows car accident victims to include such damages in their claims.
That means if you were hurt in a crash through no fault of your own, you may seek compensation for the following non-economic damages in addition to your monetary losses:
1. Mental Anguish
Mental anguish is characterized by negative emotions that are so powerful they essentially prevent you from being an active participant in your life. Examples of such emotions include anxiety, depression, grief, distress, anger, and fear.
2. Loss of Enjoyment in Life
Do your injuries keep you from participating in hobbies or pastimes you once loved? What about attending outings or hosting social events? If your life isn't nearly as fulfilling after the wreck as it was before because of the limitations your injuries pose, you deserve to be compensated for the enjoyment that you've lost.
3. Pain and Suffering
In tort law, "pain and suffering" refers to the physical pain and mental suffering that accompany serious injuries. Since more severe injuries tend to cause more pain and suffering, they usually warrant a higher payout for such non-economic damages.
How Can I Demonstrate the Extent of My Non-Economic Damages?
Unlike economic damages, which are accompanied by actual documentation, your non-economic damages won't have any corresponding records. There are, however, a number of widely accepted ways to prove that you did, in fact, incur them. Examples include psychological evaluations and statements from friends, loved ones, and colleagues who can speak on changes in your mood, behavior, and demeanor since the accident.
It's also wise to start a personal injury journal as soon as possible (ideally on the same day on which you were hurt). Daily entries about the challenges you face over the course of your recovery will help contextualize your medical records.
Is My Family Entitled to Any Compensation for Their Non-Economic Damages?
In addition to the damages listed above, Minnesota allows for the recovery of loss of companionship or consortium. This is characterized by the loss of marital benefits, including affection, society, and sexual relations, that the victim's spouse—or registered domestic partner—incurs as a result of the accident.
Call 320-259-5414 to Discuss Your Case with a St. Cloud Car Accident Attorney
If you were seriously hurt in a motor-vehicle collision, turn to Bradshaw & Bryant to determine how best to proceed. After evaluating the crash from all angles, we'll help you gather the evidence needed to pursue the maximum payout possible. To schedule your free initial consultation with a car accident lawyer in St. Cloud, call 320-259-5414 or complete our Online Contact Form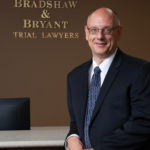 A founding partner with Bradshaw & Bryant, Mike Bryant has always fought to find justice for his clients—knowing that legal troubles, both personal injury and criminal, can be devastating for a family. Voted a Top 40 Personal Injury "Super Lawyer"  multiple years, Mr. Bryant has also been voted one of the Top 100 Minnesota  "Super Lawyers" four times.