Before you can recover compensation for injuries you sustained on someone else's premises, you must prove that the negligence of the property owner or another party contributed to your accident. The strongest evidence for supporting your claim will depend on the facts surrounding your injuries.
In general, there are certain kinds of evidence that will contribute to the success of any premises liability claim. These include:
Photographs or surveillance footage of the scene;
The official accident report;
Eyewitness testimony;
Lease/ownership documentation; and
Medical records.
Fortunately, injured parties do not have to worry about gathering any of the above on their own. Those who hire a seasoned accident lawyer can focus on their health while their attorney handles the logistics of their claim and compiles the following:
1.Photographs or Surveillance Footage 
You should photograph the scene before leaving the premises if you are physically able to do so. This will ensure the hazard that caused your injuries is documented before the liable party has a chance to fix the dangerous condition.
If you did not take photographs immediately after your injury, return to the scene as soon as possible to do so. Depending on where the incident occurred, there may also be surveillance footage that could be used to strengthen your case. A personal injury attorney can issue a subpoena to obtain this footage if necessary.
The Official Accident Report 
If you slipped and fell at someone else's home, there may not be an official report; however, all businesses should have some kind of procedure for drafting incident reports. If the accident occurred on company property, report it to the manager or owner immediately and ask for a copy of the incident report.
According to the National Floor Safety Institute, slip and falls account for more than 1 million emergency department visits annually. Because of their prevalence, there is no reason for any business not to have a procedure in place in the event that an employee or customer falls on their premises.
Eyewitness Testimony 
Eyewitness testimony can help corroborate your story. If anyone was present when the incident occurred, obtain their name and contact information so your injury lawyer can contact them later to obtain their statement.
Ownership Documentation 
Lease agreements or property records will show who was responsible for maintaining the premises at the time of your accident. This will help your attorney determine whom to name as the defendant in your claim.
Medical Records 
The evidence listed above can be used to prove liability, but in order to recover compensation from the liable party, you must also prove that you incurred damages. Medical records and receipts for expenses like prescription medication and physical therapy sessions can be valuable evidence to prove your damages.
Your attorney may also rely on income tax returns, paystubs, and other evidence to prove your lost income. The testimony of financial experts, medical experts, and vocational experts may also be used to strengthen your claim.
Discuss Your Case with a Minnesota Premises Liability Attorney Today! 
The St. Cloud personal injury lawyers at Bradshaw & Bryant are dedicated to attaining justice for accident victims. We offer compassionate and tenacious legal representation to clients in Waite Park, Golden Valley, and all of Minnesota. Call 320-259-5414 or fill out our Contact Form to schedule a free case evaluation.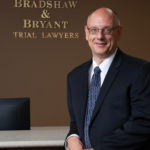 A founding partner with Bradshaw & Bryant, Mike Bryant has always fought to find justice for his clients—knowing that legal troubles, both personal injury and criminal, can be devastating for a family. Voted a Top 40 Personal Injury "Super Lawyer"  multiple years, Mr. Bryant has also been voted one of the Top 100 Minnesota  "Super Lawyers" four times.