The resignation or firing of Archbishop John Nienstedt is big news nationwide.  My Minneapolis blog covers the news story in some detail.  But how does it affect the Diocese of St. Cloud and the St. John's abuse cases?
The Diocese of Saint Cloud is a suffragan see of the Archdiocese of Saint Paul and Minneapolis.  The Bishop is subordinate to the Archbishop.
It's interesting that the current St. Cloud bishop, Donald Joseph Kettler, a College of St. John graduate, was brought in in the middle of the priest sex abuse cases.  Like Bernard Hebda, the newly appointed Apostolic Administrator of the Archdiocese, Bishop Kettler is trained in Canon Law.  The Fairbanks Diocese declared bankruptcy while he was Bishop there.
The leadership needs to reform, not cover up!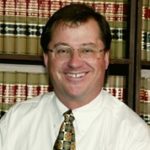 As a partner with Bradshaw & Bryant, Joe Crumley has over 20 years experience with the firm—helping injured people and their families to secure just and fair compensation. Excelling in personal injury litigation, Mr. Crumley has secured numerous record-setting verdicts and settlements and won accolades such as MTLA's "Trial Lawyer of the Year" and "Excellence" Awards.