Nadine Coyle revelation that she and her family's were put at risk due to a carbon monoxide leak in her Los Angeles home's cracked central heating boiler, should alert us all to the dangers of carbon monoxide. It also reminds me of a couple of cases that have gone through the appellant court system here in Minnesota.
In each of those cases, people were killed as they slept in or upstairs from running cars. There are also the cases I have written about where it was carbon monoxide detectors in the house that probably prevented it from happening again.
In Minnesota from 2003 to 2007, unintentional CO poisonings not related to fire were responsible for 61 deaths and 1,261 visits to emergency departments. CO is most likely to accumulate inside homes during the winter months —
Make sure your heating system and all fuel burning appliances are adequately vented and properly maintained.
Make sure your furnace has an adequate air intake.
Provide adequate ventilation when using fireplaces, wood stoves, or space heaters.
Don't use gasoline engines or burn charcoal in enclosed spaces.
Don't use gas stoves or ovens to heat living areas.
Rely on a qualified technician to install furnaces and other fuel-burning appliances.
Do a furnace check and check all fuel-burning appliances in the fall.
To read the Department of Health report on carbon monoxide, go to tinyurl.com/ye9tdfp.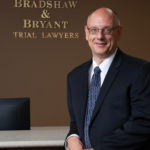 A founding partner with Bradshaw & Bryant, Mike Bryant has always fought to find justice for his clients—knowing that legal troubles, both personal injury and criminal, can be devastating for a family. Voted a Top 40 Personal Injury "Super Lawyer"  multiple years, Mr. Bryant has also been voted one of the Top 100 Minnesota  "Super Lawyers" four times.