Media Advisory/News Release
August 23, 2016
St. John's Hearing in Stearns County
In Hearing Tomorrow, St. John's Abbey Seeks to Block Public Release of Information about Fr. Timothy Backous
St. John's wrongfully claims Backous is innocent and falsely accused of sexual abuse
Backous accused of sexually abusing a St. John's Choir Boy in 1991; allegation kept secret for 23 years
(St. Cloud, MN) – In a hearing tomorrow in Stearns County District Court, St. John's Abbey and Father Timothy Backous will ask the court to block attorneys Jeff Anderson and Mike Bryant from making Backous' file public.
Anderson and Bryant represent Doe 188 and Doe 413, who were both sexually abused by Backous when they were children. St. John's and Abbot Klassen have claimed repeatedly that Backous is innocent and have cleared Backous by two investigations. However, St. John's refuses to make Backous' file or the investigation reports public.
Both men filed lawsuits against Backous and St. John's earlier this year. Doe 413 was abused by Backous as a student at St. John's Prep in the early 1980s. Doe 188 was abused by Backous when he was a member of the St. John's Boys Choir in in 1990. Doe 188's parents reported their son's abuse the following year and were promised Backous would no longer be allowed around children. Since then, Backous has held high profile jobs at St. John's Prep and at St. John's University, including head of the Prep School from 2006-2013.
Stearns County Courthouse – 9:00AM
Wednesday August 24, 2016
Honorable Judge Vicki Landwehr
725 Courthouse Square
St. Cloud, MN
Contact Jeff Anderson:  Office: 651.227.9990 Cell: 612.817.8665
Contact Mike Bryant: Office: 320.259.5414 Cell: 800.359.0061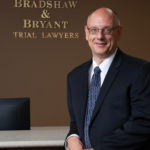 A founding partner with Bradshaw & Bryant, Mike Bryant has always fought to find justice for his clients—knowing that legal troubles, both personal injury and criminal, can be devastating for a family. Voted a Top 40 Personal Injury "Super Lawyer"  multiple years, Mr. Bryant has also been voted one of the Top 100 Minnesota  "Super Lawyers" four times.