Tuesday morning, a Minneapolis mail carrier was attacked by two pit bulls. He was just doing his job. The Minneapolis Tribune has reported:
the dogs attacked him a good five minutes while neighbors tried beating them back with yard signs, a bat, even a car. Police eventually shot and killed the dogs when they charged officers who arrived at the scene in the 3300 block of Colfax Avenue N.
The mail carrier is in the hospital and had 40 bite wounds and needed surgery. It is hoped that he got needed medical care and heals quickly. The dogs' owners were cited for $675 in fines for unlicensed pets, unleashed pets, unvaccinated pets and a lack of public protection from pets.
Update: recently the owners of the dogs were charged criminally.
Here at the Injuryboard, a number of members have written about not only these type of bites, but also the injuries particular to pit bulls. According to the Centers for Disease Control and Prevention, every year 4.5 million Americans are bitten by dogs. In Minnesota we have a solid dog bite law that imposes strict liability on the owner of the dog, unless the dog was provoked.
Good advice to avoid getting bit is:
♦Never approach an unfamiliar dog.
♦If you are approached by an unfamiliar dog, remain motionless until the dog leaves the area. Do not scream or run from dog.
♦If a dog should attack, throw something at it; a purse, jacket, backpack or anything that can come between you and it.
♦If you are a dog owner, have your dog spayed or neutered, take your dog to obedience classes and avoid chaining your dog.
If you are bitten:
♦Children should tell an adult right away.
♦Wash the wound with soap and water and consult a doctor. Serious bites can cause permanent scarring, so ask for a plastic surgeon certified by the American Board of Plastic Surgery.
♦Report animal bites to Animal Care and Control. Be prepared to provide as much information about the animal as possible.
If you or a family member is bitten or injured by a dog, get the name of the owner. See a doctor. If you need help, get the advice of attorneys who are knowledgeable in handling these cases. Early investigation, needed photographs, and proper evaluation can be the difference between an appropriate recovery and inadequate justice.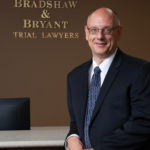 A founding partner with Bradshaw & Bryant, Mike Bryant has always fought to find justice for his clients—knowing that legal troubles, both personal injury and criminal, can be devastating for a family. Voted a Top 40 Personal Injury "Super Lawyer"  multiple years, Mr. Bryant has also been voted one of the Top 100 Minnesota  "Super Lawyers" four times.