In Hearing Tomorrow, Diocese of St. Cloud Seeks to Dismiss Public Nuisance Claim from First Marfori Suit
(St. Cloud, MN) – In a hearing tomorrow in Stearns County District Court, the Diocese of St. Cloud will ask the court to dismiss a public nuisance claim brought by survivor Doe 75 in October 2015. In his lawsuit, Doe 75 claims the Diocese of St. Cloud created a public nuisance by concealing the identities and information pertaining to priests in the diocese who were accused of sexually abusing children. This allowed the known child molesters to live freely in the community without informing the public. Doe 75 was sexually abused by Fr. Anthony "Tony" Marfori when Marfori worked at Cathedral High School.
Immediately following the hearing at the Stearns County Courthouse, attorneys Jeff Anderson and Mike Bryant will announce the filing of a second lawsuit on behalf of Doe 96 who was also sexually abused by Marfori and they will discuss how the Diocese of St. Cloud has responded to the lawsuits and subsequently handled Marfori. The Diocese of St. Cloud, Cathedral High School and Marfori are named as defendants. Marfori sexually abused Doe 96 when he was a student at Cathedral High School in the late 1970s.
Stearns County Courthouse – 1:15PM
Wednesday March 16, 2016
Honorable Judge John H. Scherer
725 Courthouse Square
St. Cloud, MN
*News Conference to follow at the courthouse
In 2014 the Diocese of St. Cloud released a list of 33 priests who worked in the Diocese that it knew had sexually abused children. Father Marfori's name was not on that list. Until Doe 75 filed his lawsuit, Marfori was an active priest of the Diocese of St. Cloud, working on "special assignment" at St. Andrew's Parish in Elk River.
Both Doe 75 and Doe 96's lawsuits were made possible by the MN Child Victims Act which allows survivors of child sexual abuse to come forward confidentially and bring a claim against their abusers and the institutions that protected their abusers. The deadline expires May 25, 2016.
Notes:
*         A copy of the complaint and other information will be available tomorrow at www.andersonadvocates.com<http://www.andersonadvocates.com>.
Contact Jeff Anderson:  Office: 651.227.9990 Cell: 612.817.8665
Contact Mike Bryant: Office: 320.259.5414 Cell: 800.359.0061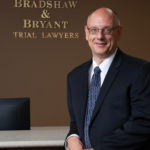 A founding partner with Bradshaw & Bryant, Mike Bryant has always fought to find justice for his clients—knowing that legal troubles, both personal injury and criminal, can be devastating for a family. Voted a Top 40 Personal Injury "Super Lawyer"  multiple years, Mr. Bryant has also been voted one of the Top 100 Minnesota  "Super Lawyers" four times.