Interesting statement from the Pope last week as he pointed out that all institutions need to deal with the issues that are involved with providing access to children for pedophiles. In his statement , it was reported that he:
insisted on Saturday that all of society's institutions and not just the Catholic church must be held to "exacting" standards in their response to sex abuse of children, and defended the church's efforts to confront the problem.
If the Church had shown the commitment to zero tolerance that was available, this statement would mean something. He could actually stand there and give guidance on how each scandal should be handled. The problem is that they haven't in the past and have continued to show to not doing it in the present. They have no real policy in most of the world that even suggests that they are using "exacting" standards.
There are so many priests who are still being hidden and information that has been destroyed or covered up. If the Church was truly to lead the way, they wouldn't be suffering through the most recent problems with indited Bishops and new disclosures. They wouldn't need victims to finally come forward and be heard before they disclosed the hidden atrocities.
As Snap national director, David Clohessy pointed out:
"No public figure talks more about child safety but does little to actually make children safer than Pope Benedict… The pope would have us believe that this crisis is about sex abuse. It isn't. It is about covering up sex abuse… And while child sex crimes happen in every institution, in no institution are they ignored or concealed as consistently as in the Catholic church."
It is very true that the Catholic Church leadership should be looked at for guidance in handling these problems, but as a symbol of what not to do and not one of virtue.
Abuse of children and the continued silence by the offenders needs to be prevented. If you suffered, saw, or suspected such events, it is important to know that there is help out there.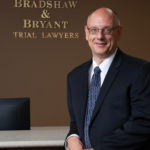 A founding partner with Bradshaw & Bryant, Mike Bryant has always fought to find justice for his clients—knowing that legal troubles, both personal injury and criminal, can be devastating for a family. Voted a Top 40 Personal Injury "Super Lawyer"  multiple years, Mr. Bryant has also been voted one of the Top 100 Minnesota  "Super Lawyers" four times.