According to the American Medical Association, a catastrophic injury is one that results in severe damage to the brain or spine. The legal definition is slightly broader, as it includes any injury or illness that leaves the victim permanently disabled.
If you're recovering from a catastrophic injury, it's natural to fret about your financial security, especially if you'll never be able to work again. Thankfully, you may have some legal recourse if you weren't actually responsible for the accident in which you were hurt.
In order to pursue a payout, though, you'll have to put together a strong claim. In addition to compiling sufficient evidence of both liability and damages, that means avoiding various missteps from day one.
Let's take a look at some of the most common mistakes that accident victims tend to make when recovering from catastrophic injuries:
1. Oversharing on Social Media
When evaluating a claimant's credibility, insurance adjusters will often take to social media. If you post anything that's inconsistent—or that can be perceived as inconsistent—with your claim, it could ultimately be used against you.
With so much at stake, it's advisable to disable your social media accounts entirely until your case has been resolved. Should this be an issue, at least make sure to:
• Enable the strictest privacy settings;
• Filter all new connection requests; and
• Avoid posting about the accident or your injuries.
2. Giving a Premature Recorded Statement
At some point—probably fairly early in the proceedings—the insurance adjuster will reach out and request a statement. Since this statement will essentially serve as the foundation on which your claim is built, it's best to avoid giving one until you've conducted your own investigation and confirmed the extent of the damages.
3. Concluding the Negotiations Before Reaching Maximum Medical Improvement
It's natural to hope for a speedy settlement, especially if you're struggling to make ends meet. To ensure the resulting payout will actually cover all the damages you incur, though, you must wait to conclude the negotiations until you reach maximum medical improvement.
When it comes to catastrophic injuries, that could mean waiting a year or more. Should your claim prove successful, though, the wait will be well worth the trouble. Accepting a premature settlement would essentially leave you with no recourse if you suffered unanticipated complications afterward and incurred additional damages.
4. Failing to Hire Your Own Advocate
No matter how helpful or compassionate the insurance adjuster seems, his or her primary goal is ultimately in direct opposition with your own. Therefore, you can't rely on him or her to protect your best interests.
A resourceful personal injury attorney, on the other hand, will advocate for you at every stage of the proceedings. And since most reputable firms don't charge a fee unless they win on behalf of the client, you've got nothing to lose by hiring one.
Discuss Your Case with a Catastrophic Injury Attorney in Minneapolis
If you're living with permanent disabilities because someone failed to act with reasonable care, turn to Bradshaw & Bryant. We understand how catastrophic injuries can turn our clients' lives upside down. Call 800-770-7008 or use our Contact Form to set up a free case review with a catastrophic injury lawyer in Minneapolis.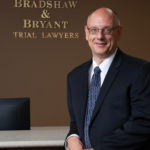 A founding partner with Bradshaw & Bryant, Mike Bryant has always fought to find justice for his clients—knowing that legal troubles, both personal injury and criminal, can be devastating for a family. Voted a Top 40 Personal Injury "Super Lawyer"  multiple years, Mr. Bryant has also been voted one of the Top 100 Minnesota  "Super Lawyers" four times.