When you slip and fall on someone else's property, you can walk away with a lot more than a bruised ego. From fractures and lacerations to head trauma and internal bleeding, falls can result in extensive injuries. In fact, falls are responsible for more than 8 million visits to the emergency room each year.
Thankfully, those who slip through no fault of their own are usually entitled to compensation. If you were hurt at someone else's home or place of business because they failed to maintain the premises, for example, you probably have grounds for a claim.
Should you choose to proceed, you may be able to seek compensation for the following damages:
1. Monetary Losses
If your claim is successful, a significant portion of the resulting payout will probably be comprised of economic damages. These refer to tangible monetary losses that you wouldn't have incurred had you not fallen. Examples include:
• Medical expenses,
• Lost wages,
• Loss of future earnings,
• The cost of repairing or replacing any damaged property,
• The cost of any reasonably necessary replacement services,
• The cost of modifying your home and/or vehicle to accommodate any disabilities, and
• The cost of any ongoing rehabilitation and/or home care.
You can prove that you incurred these and other economic damages—and then demonstrate their extent—using associated documentation like statements, receipts, and invoices. Just make sure to keep all such records in a safe place until you can give them to your legal team.
2. Non-Monetary Losses
Minnesota tort law acknowledges the fact that accidental injuries can be just as devastating mentally as they are physically and financially. As such, claimants may seek compensation for non-economic damages in addition to their monetary losses. Such damages include:
• Pain and suffering,
• Mental anguish, and
• Loss of enjoyment in life.
The state also recognizes that spouses of injured parties suffer. Consequently, husbands and wives may file their own claims for loss of companionship or consortium.
3. Punitive Damages
Most slip and fall claimants are only entitled to compensatory damages, which encompass the losses listed above. If the liable party acted with deliberate disregard for the rights of others, however, or with the knowledge that their actions had a high probability of causing injury, the victim may be able to make a case for punitive damages, as well.
Whereas compensatory damages essentially reimburse the claimant for losses they actually incurred, punitive damages punish the at-fault party for especially egregious behavior. They also aim to deter such conduct in the future.
Discuss Your Claim with a Slip and Fall Attorney in St. Cloud
If you slipped and fell on someone else's property, you can count on Bradshaw & Bryant for compassionate counsel at every stage of the subsequent claims process. Our tireless team is determined to help injured parties secure the compensation they need to make their lives whole again. To set up a free case review with a slip and fall lawyer in St. Cloud, complete our Online Contact Form or call 320-259-5414.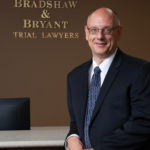 A founding partner with Bradshaw & Bryant, Mike Bryant has always fought to find justice for his clients—knowing that legal troubles, both personal injury and criminal, can be devastating for a family. Voted a Top 40 Personal Injury "Super Lawyer"  multiple years, Mr. Bryant has also been voted one of the Top 100 Minnesota  "Super Lawyers" four times.