If you're living with a brain injury because someone failed to act with reasonable care, you may have grounds for legal action. The easiest way to determine how best to proceed in such a scenario is by consulting a knowledgeable attorney.
Since most reputable personal injury firms offer free case evaluations, you've got nothing to lose by making an appointment. To ensure this meeting is as productive as possible—and help your claim get off to a strong start—be prepared to discuss the following with your brain injury lawyer:
1. The Circumstances Surrounding the Accident
Before you can seek the compensation you deserve, you must determine whom to name in your claim. That means conducting a thorough investigation into the incident in which you were hurt and identifying all those who played a role.
As such, your attorney will want to know all about the accident that resulted in your brain injury. Write down everything you can remember about that day as soon as possible, and be prepared to answer questions like the following during the meeting:
• Did you contribute to the accident in any way?
• Did you receive emergency care at the scene?
• Were there any police reports or incident reports drafted, and, if so, what did they say?
• Should you have been wearing a helmet? For example, were you riding a motorcycle, bicycle, or horse at the time?
2. The Physical, Emotional & Cognitive Fallout of the Injury in Question
After explaining how you got hurt, you should be prepared to discuss the impact the injury is having on your everyday life. This will help your lawyer determine whether you incurred any non-economic damages like pain and suffering, mental anguish, and loss of enjoyment in life.
Your legal team will also want to know how your condition is affecting your loved ones. Minnesota allows for the recovery of loss of consortium, which is characterized by the loss of love, affection, and companionship that spouses incur after their partners get hurt.
3. The Financial Ramifications of Your Condition
If your claim proves successful, a significant portion of the damages you recover will likely correspond to monetary losses. Examples include:
• Medical bills;
• Lost wages;
• Loss of future earnings;
• Property repairs;
• Home care;
• Replacement services;
• Domestic help;
• Home and vehicle modifications; and
• Child care.
To help your attorney determine the financial ramifications of your brain injury, bring all relevant invoices, bills, and receipts to your initial consultation. Unless you've already reached maximum medical improvement, you'll inevitably incur additional damages, but such documents will at least provide a starting point for your legal team to track your losses.
Discuss Your Case with a Brain Injury Lawyer in St. Cloud
If you were involved in some kind of preventable accident and your life will never be the same, contact Bradshaw & Bryant. Our compassionate team is committed to helping families put their lives back together in the wake of tragedy. Call 320-259-5414 or fill out our Contact Form to schedule a free consultation with a brain injury attorney in St. Cloud.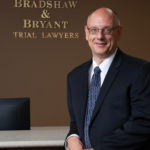 A founding partner with Bradshaw & Bryant, Mike Bryant has always fought to find justice for his clients—knowing that legal troubles, both personal injury and criminal, can be devastating for a family. Voted a Top 40 Personal Injury "Super Lawyer"  multiple years, Mr. Bryant has also been voted one of the Top 100 Minnesota  "Super Lawyers" four times.