Unlike standard passenger vehicles, motorcycles are not equipped with any kind of crumple zone to absorb forceful impacts. As such, riders are incredibly vulnerable in collisions.
While wearing adequate safety gear can help—helmets reduce the risk of death by 37 percent, for example—catastrophic injuries are still likely. If you or someone you love sustained a brain injury in a motorcycle accident, here's what you should know about taking action against those who were responsible for the wreck:
1. You Will Have to Prove Liability
You must determine who was ultimately responsible for the crash in order to take action against them. As such, every strong motorcycle accident claim starts with a thorough investigation.
There are a number of parties that could be liable for your damages. Examples include another motorist, a vehicle or parts manufacturer, and the government agency responsible for maintaining the stretch of road on which the incident occurred.
While the strongest evidence of liability will depend on the circumstances, it will likely include some combination of the following:
• Photographs of the wreckage;
• Dash cam footage;
• Surveillance recordings from cameras overlooking the scene;
• Statements from eyewitnesses;
• Testimony from accident reconstruction experts;
• Cell phone records;
• Vehicle or parts schematics;
• Maintenance records;
• Toxicology reports; and
• The official police report.
2. You May Need to Consult Expert Witnesses
Because brain damage isn't always visible on diagnostic images, motorcycle accident claims involving head injuries typically demand testimony from various medical specialists. With your permission, your legal team may interview a number of experts who can speak on the severity of your condition.
Such witnesses might include your primary care physician, your physical therapist, your neurologist, and general medical experts who are well-versed in the kind of injury you sustained. Statements from these individuals could prove invaluable when it comes to demonstrating the extent of the damages you've incurred as a result of your condition.
3. You Have a Limited Amount of Time to Proceed to Court
Although most motorcycle accident claims are settled, there's always the chance that yours could go to court. If the opposing party refuses to offer a fair payout or disputes liability altogether, filing a formal lawsuit may be the only way to pursue the compensation your family deserves.
Should this turn out to be the case, you must commence the proceedings before the statute of limitations has passed. While Minnesota allows most personal injury plaintiffs six years to take action, there are a number of exceptions to this deadline that could shorten it considerably. If you intend to name a government entity in your claim, for example, you have just 180 days to submit notice of your injury.
Discus Your Case with a Motorcycle Accident Attorney in St. Cloud
If you or someone you love is living with brain damage because another party failed to act with reasonable care, contact Bradshaw & Bryant. Our compassionate team will investigate the circumstances surrounding the accident so your family can determine how best to proceed. Call 320-259-5414 or fill out our Contact Form to schedule a free consultation with a motorcycle accident lawyer in St. Cloud.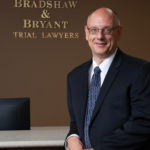 A founding partner with Bradshaw & Bryant, Mike Bryant has always fought to find justice for his clients—knowing that legal troubles, both personal injury and criminal, can be devastating for a family. Voted a Top 40 Personal Injury "Super Lawyer"  multiple years, Mr. Bryant has also been voted one of the Top 100 Minnesota  "Super Lawyers" four times.