Whenever you dine out, you probably don't think about all the possible ways you could end up getting hurt. You might give serious thought to the appetizer you're going to share or the cocktail you'll sip, but chances are you don't even consider the potential hazards you face as long as you're at the establishment.
As many patrons have learned the hard way, though, a restaurant can be an incredibly dangerous place. From hot plates to broken glasses to wet floors, there are all kinds of hazards that can cause harm at any given moment.
Thankfully, those who do get hurt are usually entitled to compensation. As long as the establishment failed to exercise reasonable care and the patrons were not trespassing at the time, they can hold the restaurant accountable for the damages they incur as a result of their injuries.
Let's take a look at some of the most common ways in which restaurant owners and their employees can be negligent:
1. Failing to Maintain the Premises
Restaurant owners must keep their premises free of hazards that could end up hurting patrons. Examples include broken furniture, unsecured mats, slick floors, and inconspicuous thresholds.
They must also train their employees to address any unanticipated issues that arise, like spills, right away. Should they fail to do either, those who get hurt as a result can likely hold them liable.
2. Failing to Schedule Enough Workers for Every Shift
It's not uncommon for managers in the food service industry to understaff their shifts in an effort to save money. While it means additional work for them, waitresses and bartenders often appreciate this arrangement because it leaves them with more tips at the end of the night.
When a restaurant is operating with a skeleton crew, though, issues are more likely to fall through the cracks. Spills might not get cleaned up immediately, for example, putting patrons at risk of slipping and falling. Should anyone get hurt, they can hold the owner accountable for failing to enforce safer scheduling practices.
3. Ignoring Food Safety Requirements
Not all restaurant hazards are in the dining room. Sometimes, the kitchen poses the greatest danger.
If the prep cooks or line cooks are not following proper protocol when handling the food, they put everyone who eats it at risk of getting sick. While a mild case of food poisoning might not result in significant damages, a serious illness could cause complications that are life-threatening.
Tracing food poisoning back to a specific dish is challenging, making these kinds of claims especially complex. Thankfully, seasoned attorneys have a number of strategies for determining blame.
Discuss Your Claim with a Restaurant Injury Lawyer in St. Cloud
If you were hurt at a dining establishment through no fault of your own, you deserve justice, and Bradshaw & Bryant can help you pursue it. Our resourceful team isn't afraid to go up against even the largest corporations in America. To schedule your free initial consultation with a restaurant injury attorney in St. Cloud, complete our Contact Form or call 320-259-5414.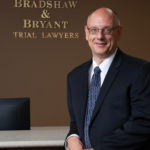 A founding partner with Bradshaw & Bryant, Mike Bryant has always fought to find justice for his clients—knowing that legal troubles, both personal injury and criminal, can be devastating for a family. Voted a Top 40 Personal Injury "Super Lawyer"  multiple years, Mr. Bryant has also been voted one of the Top 100 Minnesota  "Super Lawyers" four times.