It goes without saying that tire maintenance should be a top priority for motorcycle riders. But sometimes, even a new tire can cause an accident due to a design or manufacturing defect. It's also possible for poor road conditions such as uneven pavement or potholes to damage a tire and cause a crash.
If you're recovering from serious injuries sustained in a tire-related wreck, you may be wondering who's responsible for your healthcare costs and other damages. Below are a few parties who are often found liable for these accidents:
1. The Tire Manufacturer
Tires are like any other consumer product in that defects can—and do—arise over the course of production. In many cases, these defects have the potential to cause catastrophic collisions.
For example, if the manufacturer uses lower-grade materials—whether inadvertently or in an attempt to reduce costs—the tread might eventually separate from the rest of the tire. Failing to test each model adequately could also be problematic if the manufacturer assigns the wrong speed rating.
2. A Mechanic
Mechanics are responsible for sourcing their tires from reputable distributors—and for disposing of those that have been sitting in storage for too long, even if they've never been used. Because rubber stiffens over time, it's advisable to toss tires no more than 10 years after they were manufactured. If your mechanic outfitted your motorcycle with outdated tires, you may be able to name him or her (or their employer) in your personal injury claim following a tire-related accident.
3. The Municipality
Local and state government agencies are responsible for maintaining their roads to a reasonably safe standard. Should they fail to repair potholes, smooth jagged asphalt, or clean up debris left in the wake of a collision, they could be liable for any tire blowouts that result.
What Should I Do Following a Tire-Related Motorcycle Accident?
If you end up in a motorcycle accident through no fault of your own, pull out of traffic and call the police. Once officers arrive, photograph the scene from various angles, being sure to capture any conditions that likely to contributed to the wreck.
You should also exchange insurance information with the other motorists who were involved. Obtain the names and phone numbers of any eyewitnesses, as well.
Upon leaving the scene, seek prompt medical care. And when you're ready to discuss the incident and start building your claim, call a personal injury lawyer.
Discuss Your Case with a Motorcycle Accident Lawyer in St. Cloud
At Bradshaw & Bryant, we understand the physical, emotional, and financial toll that serious injuries can take. If you were hurt in a motorcycle accident, we can help you overcome the legal hurdles you now face. By letting us handle the logistics of your case, you will have more time to focus on your physical and emotional recovery. Call 320-259-5414 or fill out our Contact Form to schedule a free consultation with a motorcycle accident attorney in St. Cloud.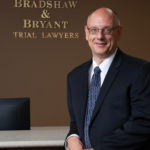 A founding partner with Bradshaw & Bryant, Mike Bryant has always fought to find justice for his clients—knowing that legal troubles, both personal injury and criminal, can be devastating for a family. Voted a Top 40 Personal Injury "Super Lawyer"  multiple years, Mr. Bryant has also been voted one of the Top 100 Minnesota  "Super Lawyers" four times.