Friday night, a bicyclist died after a car-bicycle collision. The bicyclist was at the intersection of County Road 10 and Jefferson Street. Blaine police are investigating, along with Anoka County and the Minnesota State Patrol.
As I have discussed before, the number of incidences with bikes has continued to grow over the last year. It's important that bike riders follow rules and that vehicles watch out for the bikes.
AVOIDING BIKE-VEHICLE CRASHES Cyclists and drivers:

• Reduce distractions and watch for bikes or cars.

• Follow all stop signs and traffic signals.

Drivers:

• Give cyclists the entire lane if there's not enough room for a bike and vehicle.

• Give bikes 3 feet of clearance when passing.

• Look ahead and behind for cyclists when turning.

• Yield to bikes on sidewalks and halt before crosswalks.

Cyclists:

• Ride just right of center in a lane rather than along curbs

• Stay away from doors of parked cars.

• Bike with the flow of traffic unless there's a contra-flow bike lane.

• Use hand signals for turns and switching lanes.

• Wear helmets and use lights and reflective gear at night.

Source: City of Minneapolis
If you are in an bicycle accident, make sure to get the names of anyone who indicates they saw what happened. If you witness an accident, check to see if everyone is OK and stay around or at least give the drivers your contact information. If you are injured, seek the advice of an attorney who does that kind of work and who can explain your coverages and rights. Also, as Injuryboard member, Steve Lombardi has pointed out: save the bike in its wrecked condition. Take photographs of the mva scene and the vehicle that hit you.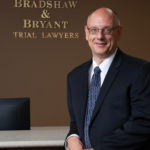 A founding partner with Bradshaw & Bryant, Mike Bryant has always fought to find justice for his clients—knowing that legal troubles, both personal injury and criminal, can be devastating for a family. Voted a Top 40 Personal Injury "Super Lawyer"  multiple years, Mr. Bryant has also been voted one of the Top 100 Minnesota  "Super Lawyers" four times.