It's that time of year again – tailgating parties, Halloween parties, Thanksgiving weekend and Christmas parties. Unfortunately, it is also the time of year that you hear the statistics on drunk driving.
Alarming Drunk Driving Facts
In 2009, 10,839 people were killed in alcohol impaired car accidents, accounting for nearly one-third of all traffic-related deaths in the United States, according to the National Highway Traffic Safety Administration (NHTSA).
On average, a drunk driver has driven 87 times before their first arrest. Digest that for a moment; that fact alone is sobering.
One in three people will be involved in an alcohol-related crash at some point in their life.
One person is injured from an alcohol-related accident EVERY MINUTE.
An estimated 50 percent to 75 percent of convicted drunk drivers continue driving on a suspended license.
How to Detect a Drunk Driver
Stopping erratically with no apparent reason
Driving with headlights off at night
Swerving and tailgating as well as quick acceleration or deceleration
Driving too slow
Drifting in and out of traffic
Driving on the wrong side of the road
This not meant to be an exhaustive list but it does include some of the most common telltale signs that a driver might be intoxicated while behind the wheel.
Drinking? Plan Ahead
It doesn't matter if you going to Aunt Sadie's for Thanksgiving dinner or Bob's house to watch the game – the same rules apply – don't drive after drinking and plan ahead. If you didn't have the foresight to plan ahead because you didn't expect to drink so much, call a friend, co-worker or family member but don't drive.
Around the holidays free cab rides are available. Search your area ahead of time. For the past four years Michael Bryant, of Bradshaw & Bryant PLLC, and his firm, have paid for people who drink too much alcohol to get a cab ride home for the first two weeks into the New Year.
Spend some time on the MADD site it will scare you sober or perhaps, at the least, make you consider making arrangements in advance before your big night out – during the holidays and any other day of the year. The site also has an interactive map that shows you how safe the roads are where you live. Minnesota ranks 4, read more here.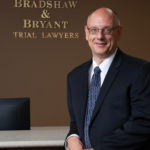 A founding partner with Bradshaw & Bryant, Mike Bryant has always fought to find justice for his clients—knowing that legal troubles, both personal injury and criminal, can be devastating for a family. Voted a Top 40 Personal Injury "Super Lawyer"  multiple years, Mr. Bryant has also been voted one of the Top 100 Minnesota  "Super Lawyers" four times.