Many insurance companies contain clauses for nonpayment when an injury is intentional. Taking the position that public policy requires that we not cover for things people do on purpose. Murder, assaults, and suicide can fall into this category. We will from time to time review cases when people have a denial from what insurance companies claim is an intentional act.
But, it seems that Cigna may be trying to explain the idea. Cigna is denying the accident and life insurance benefits of a widow after her husband was killed drunk driving. They claim that since her husband "would have been aware of the risks involved in operating his vehicle while under the influence, his death was a foreseeable result of his actions and thus not an accident." Cigna also told the widow that driving drunk is "conduct that must be deterred" and that his death was the "result of intentionally self-inflicted injuries."
As a result, the woman has sued Cigna in a Houston federal court. This case will be one to watch because it does raise a number of questions.
Why should the innocent beneficiary be held to not recover?
Why should the company keep the money?
What, if any proof, does the company have that he knew what was going to happen?
Does Cigna keeping life Insurance money act as any type of deterrent?
Most of all, this case is just another example of how people need experience council to work their way through complicated insurance questions. The denial looks like slight of hand, but through the use of their claims process and self run appeals process, if a person isn't represented, they are not likely to fair well.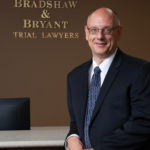 A founding partner with Bradshaw & Bryant, Mike Bryant has always fought to find justice for his clients—knowing that legal troubles, both personal injury and criminal, can be devastating for a family. Voted a Top 40 Personal Injury "Super Lawyer"  multiple years, Mr. Bryant has also been voted one of the Top 100 Minnesota  "Super Lawyers" four times.