The Fergus Falls Journal is reporting a startling statistic:
As of July 21, there have been 12 confirmed traffic fatalities in the county in 2010. In all of 2009, there were 15 traffic-related deaths. In 2008, 10 people died in traffic accidents.
The unanswered question is: why?
With one percent of the state population, at present the counties death rate is 6% of the 2010 state numbers. The answer may be the usual issues alcohol, speed, and no seat belts on rural roads.
Tollef Ringdahl, the site manager for Ringdahl Ambulance in Fergus Falls and Pelican Rapids adds:
"What did we do 15 or 20 years ago when there were no cell phones?" he said. "People waited until they got to their destination and then made a call."
Hopefully, attention to the issue will bring these numbers in line with the rest of the state.
As with any death in a Minnesota motor vehicle collision, there are a number of issues that will need to be reviewed. My partner, Joe Crumley, addressed this topic in a article for the Minnesota Lawyers Trial magazine. I was interviewed on the same topic.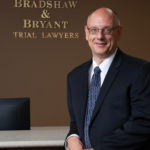 A founding partner with Bradshaw & Bryant, Mike Bryant has always fought to find justice for his clients—knowing that legal troubles, both personal injury and criminal, can be devastating for a family. Voted a Top 40 Personal Injury "Super Lawyer"  multiple years, Mr. Bryant has also been voted one of the Top 100 Minnesota  "Super Lawyers" four times.