This week the state of Wisconsin toughened their drunk driving laws:
first offense drunk driving in most cases is equivalent to a traffic ticket. Under the new legislation, if there is a child in the car– it becomes a misdemeanor. it also raises fees for offenders… and makes a fourth offense a felony rather than a fifth.
The hope is that the tighter laws will lower the usual holiday increases. If nothing else "My hope and the hope of any officer out there, is that this will have a deterrent affect against someone who chooses to drive again while they're drunk," said Captain Matt Markon with the Superior Police Department.
The laws are still lower than what happens with the same offenses in Minnesota:
A first DWI in the Minnesota is considered a misdemeanor. If the offender has a blood alcohol content of .20 or above, or has a child in the car, it becomes a gross misdemeanor. If a person gets three DWI's in ten years, it's a felony.
Minnesota's who are caught in Wisconsin will also face issues with their driver licenses in Minnesota and can have those out of state offenses used against them in subsequent driving offenses here.
Just another reminder why not to drink and drive.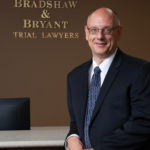 A founding partner with Bradshaw & Bryant, Mike Bryant has always fought to find justice for his clients—knowing that legal troubles, both personal injury and criminal, can be devastating for a family. Voted a Top 40 Personal Injury "Super Lawyer"  multiple years, Mr. Bryant has also been voted one of the Top 100 Minnesota  "Super Lawyers" four times.